MAKE YOUR OWN BODY MARBLING KIT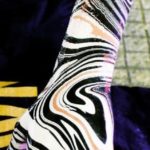 So you are new to Body Marbling and have a ton of questions. What type of paint should I use, how do you get the paint to float, where can I get the supplies to make a Body Marbling Kit? The Body Marbling industry is really tight lipped and protect their secrets. They will only give non specific details on how to properly put together a Body Marbling Kit. We decided to contact several of the top Body Marbling crews and none of them would give us any information on how it is done. But have no fear, we have figured out their secrets. It took our team many weeks to figure out the Body Marbling process.
YOU HAVE TRIED BODY MARBLING AND FAILED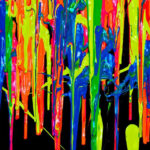 We have heard from many people that have tried and failed to get the desired results that they see from the pros. This does not surprise us one bit. The problem is that Body Marbling is not as easy as it looks. There are many variables when setting up your Body Marbling studio. You must have the correct pre-soak, the correct Body Marbling acrylic paint, and a proper post rinse for the paint to properly stick to your body. Most people that contact us were able to get the Body Marbling acrylic paint to float but were unable to get the results they were looking for because the acrylic paint would not adhere to their skin.
TYPES OF BODY MARBLING PAINT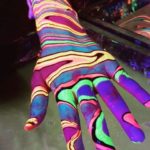 There are many types of marbling kits available online but they are not meant to adhere to your skin. These marbling kits are made for decorating objects and not people and can even be hazardous. Using the correct acrylic Body Marbling paint is extremely important. I would strongly advise to buy a full kit that comes with everything you need to start Body Marbling. Once you see how it works, you can make your own supplies. The kit we put together from our local arts and crafts store.
LUMNIMARBLE ACRYLIC PAINT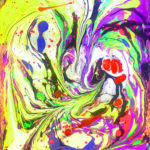 Lumnimarble Body Paint is the only paint that we found that was specifically marketed for Body Marbling and is non-toxic. The Lumnimarble Acrylic Body Paint floats effortlessly on water and attaches to your arm instantly. Lumnimarble also makes a Glow Paint that looks awesome under black light that is great for nighttime or indoor parties. They also sell complete Body Marbling Kits that include everything you need to have a successful Body Marbling party. The thing we liked best about the Lumnimarble paint is the fact that it was premixed and took all the guess work out of making your own. We are a little bit hard headed and decided to make our own paint since we wanted to discover the whole process to expose the secrets behind Body Marbling. It was a very time consuming process.
BODY MARBLING PROCESS
This is the process we used to marble our arms. We are not saying that this is the way that the pros do it, but we got similar results. Before dipping our arms into the paint, we soaked them using a pre measured saline solution. Once you pre soak your arms, you allow it to dry naturally or use a hair dryer to speed up the process. The salt that dries on your skin will allow the acrylic paint to adhere to your arm.
A few hours before doing our Body Marbling we prepared our water with a thickening agent and let it set until we were ready to get started. We found several non toxic food based thickeners that work very well. These thickeners are used in various types of food as a thickening agent. It took us weeks of practice to get the correct measurements to get the ink to float perfectly. We found that the thickening mix was good until it was completely saturated with paint or about three days, whichever came first.
The paint we used was acrylic paint that you can buy at any hobby store. We mixed the acrylic paint with water and added a non toxic surfactant to get the paint to spread out over the water. When dropped onto the water, the ink should make a circle between one and three inches.
We then slowly dipped our arms into the paint and achieved the desired results. It was amazing how far we came in a couple of weeks. There are many more details to the process but we didn't want to bore the average reader with all the in and outs. For our complete process, we put together an e book guide that you can download instantly with our complete detailed process that will have you marbling like the pros.
COMPLETE BODY MARBLING E BOOK - DOWNLOAD NOW!
By popular demand, we have put together an e book titled Body Marbling: The complete Guide.  Our comprehensive guide will show you the complete Body Marbling process from beginning to end. This book took us months to put together after hundreds of hours of research and experiments. We will show you the exact ingredients needed to get professional body marbling results, guaranteed. 
GET STEP BY STEP DIRECTIONS TO PUT YOUR BODY MARBLING KIT TOGETHER
We offer step by step instructions that are very easy to follow. We will even provide the links to purchase the products on Amazon if you choose to do so. After you have all of the ingredients together, you will have all of the exact measurements to put your kit together.
THE SECRETS OF BODY MARBLING ARE OUT
You will learn our exact recipe for the all so important saline pre soak that allows the paint to adhere to your body. Learn how to make the perfect suspension liquid to keep your marbling paint from sinking. Use our Secret Solution Recipe to make your own acrylic body marbling paint. There is much more to putting the paint together than you would imagine. You will also be shown how to put together the final rinse. 
MONEY BACK GUARANTEE
If you purchase Body Marbling: The Complete Guide and it does not live up to your expectations, we will offer you a full money back guarantee. Whether you are body marbling for fun or for business, this comprehensive guide will get you going in the right direction.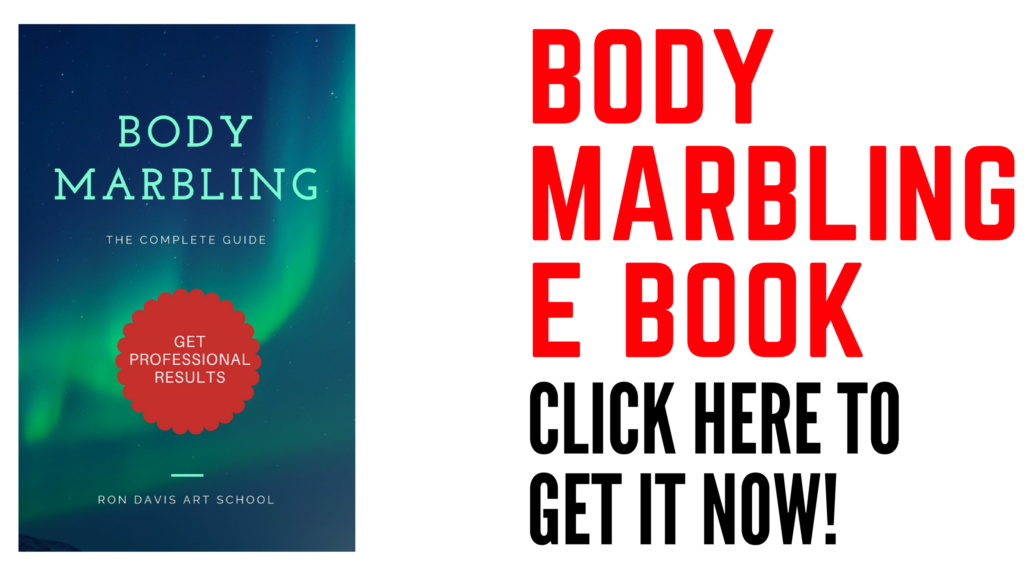 *All product and company names are trademarks™ or registered® trademarks of their respective holders. Use of them does not imply any affiliation with or endorsement by them. Body Marbling is a registered trademark of BL Visuals. We are in no way associated with BL Visuals.
Body Marbling, Marbling Body, How To Body Marble, Body Marbling Kit, Acrylic Body Marbling Paint, Festival Body Marbling,